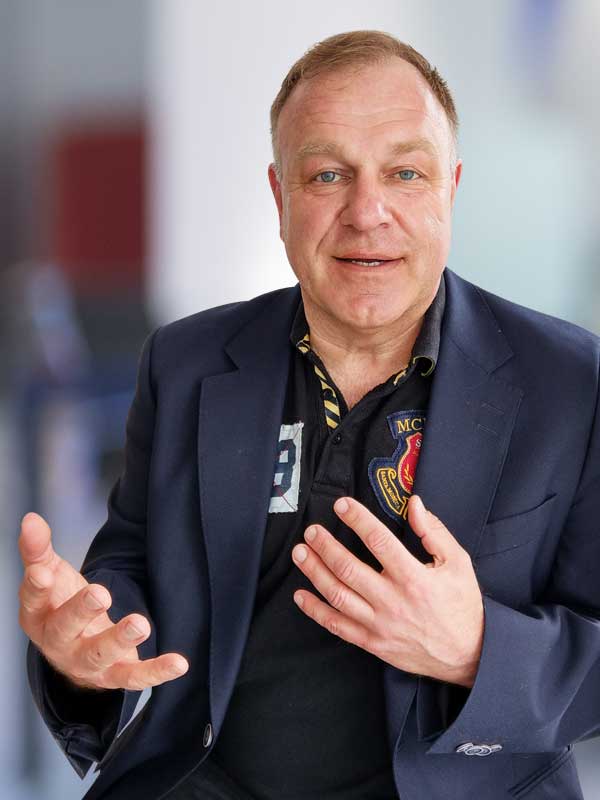 Mr. Christian Schuette
SAP and BPR/BPE expert and specialist
Overall
Build-up sustainable experience as a SAP project manager with 20+ years of experience. Proven success in successful implementations in SAP projects in various industries, sizes and implementation approaches. Demonstrated ability of intercultural leadership skills through coaching and mentoring and build excellent project teams (client, one implementation partner and hybrid consultants) with up to 120 members between Cairo and Helsinki.
SAP experience
Understanding the SAP solution in depth and across various functions and industries by starting as a programmer in SAP R/2 and ending up as global project manager by passing through the positions of being the technical team lead, a functional consultant, integration- and project manager in various single site implementations. Thus being able to guide functional consultants to optimal solutions by considering all integrative and organizational aspects.
After almost two decades of successfully implemented SAP projects in the R/3 environment as project and integration manager, now also since 2018 with first successful project management in S/4HANA.
Methods and tools
Member of the core team in the development of Origin's implementation method POWER, to which he was able to contribute his know-how from Andersen Consulting's Method/1. At the same time in his first project management application and further development method in the POWER lighthouse project. Sole development of the POWER version for template rollout projects. Subsequently, completion of all ASAP certifications of SAP (for SMEs, single locations and global rollouts) and successful application of these in various project managements.
Delivery of SWOT based recommendations for the optimal approach to be chosen (i.e. template, pilot, big-bang or functional split) in the specific situation to many customers. By having a big back-pack of different tools and templates for various purposes being able to apply the right set for the specific needs.
Building and managing agile (according to SCRUM 3.0) working teams within S/4HANA implementations. Management of the different SCRUM teams using the agile scaling method SAFe (Scaled Agile Framework) and exercising the role of RTE (Release Train Engineer – Chief Scrum Master, which facilitates team collaboration and manages risk)
Quality
Having gained a deep understanding of the various attempts and tools in the most critical areas of SAP implementations (Data Migration, Organizational Change Management and Testing) by being responsible for those in various complex situations and by being passionate about quality and a smooth Go-Live striving project teams to stop discussions about not relevant processes and functions and to the use of the most pragmatic tools and to deliver the best results given the specific situations.
Business Process Optimization
Delivery of projects with a complete and closed MRP/MRP II-based planning loop (a continuous integrated planning in logistics and production – from program planning to detailed planning) that leads to significant and sustainable savings in stocked inventory, capacity usage optimization and procurement by leveraging the potential of the ERP system. Guidance of top brand manufacturers as well as variant configuration-based machine and plant builders on new simplified pricing models with sustainable effects on customer satisfaction through clarity in pricing and the overall dependent sales process.
Organizational Change Management
Heading multiple integration projects of decentralized SAP and non-SAP solutions into a central, company-wide SAP system, including handling and smoothing all related emotional situations at all levels of the organization. Along with this – the introduction of principal models or the outsourcing of logistics or remaining sales systems is often the driving force behind the design of the integration of temporarily or permanently remaining legacy or third-party systems and applications.
Technical's
Delivery of various SAP system landscape concepts for 2-, 3- and 4-tier systems as well as applying rules for system change management. Thus being able to provide a qualified second opinion to the proposals of systems integrators. Acting as a project manager in a pan-European SAP outsourcing and negotiating of ITIL based SLAs and contracts. Knowledge and practical experience with the most important SAP workbenches (i.e. Data Migration, SAP Query, Transports).
Multiple management of subprojects for the outsourcing of SAP infrastructure.
Project Management
Created and delivered a project management CD in order to standardize these on SAP projects within PLAUT by addressing the following subjects and delivering standardized methods & tools for those:
Milestone and time planning and progress-control
Resource planning and control
Scope Management
Risk Management
Issue Management
Internal and external project reporting
In various projects that have come to a standstill, taking over the project management, consistent implementation of necessary project management procedures, exchange of ineffective internal and external resources, qualification of customer project teams and finally successful delivery of the project – or regular handover to the customer for independent completion of the project.
Project Lead on the customers behalf
Saved significant costs for the customers when acting as a project or integration manager on behalf of the customer by challenging questionable solution recommendations or unsustainable findings of the systems integrator. This lead to a high degree of trust and motivation of the customer's project team members.
Our work and collaboration is based upon: